1st Meeting of the Stakeholders Consultative Team & LIFE Natura2000Value Crete Project Steering Committee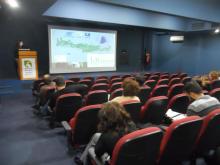 The 1st Joint Meeting of the Project Steering Committee (PSC) and the Stakeholders Consultative Team took place on Wednesday, the 26th of November 2014, at the Exhibition Premises of the Natural History Museum of Crete.
Representatives of 10 associations (A' Hunting Association of Crete & Dodecanese, Pancretan Association of Alternative Tourism, Rethymno Hotels Association, Business Association of Rented Apts & Rooms of Heraklion, Heraklion Hotels Association, Chania Hotels Association, Federation of Professional Fishermen of Rethymno, Federation of Professional Fishermen of Heraklion, Association of Professional Stockbreeders of Anogia, Association of Professional Stockbreeders of Lasithi) attended the meeting.
Stakeholder involvement is seen as a method to gain a wider picture, to ground-truth academic possibilities and to provide a first estimate of which measures of ecosystem management would be looked upon favourably by members of the public. Stakeholders Consultative Team will provide informed opinions and suggestions to help improve the implementation of the project actions. The objective is to assess if the problems identified by the Project Steering Committee are accurate and to what extent stakeholders opinions are in line with and support the objectives and the project actions implementation.