Cooperation with the Municipality of Lassithi Plateau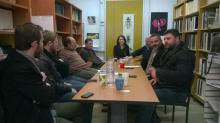 The development of a cooperation framework between the LIFE Natura2000Value Crete and the Municipality of Lassithi Plateau, in an effort to promote the environmental, social and economic value of local ecosystems and the protection of biodiversity in the Municipality of the Lassithi Plateau (whose administrative boundaries are entirely within NATURA 2000 Network), was the subject of the meeting between the Mayor, Mr. Ioannis Stefanakis and the director of the NHMC, Prof. Moisis Mylonas, on Wednesday, 18th of February 2015.
The two men agreed that there are common interests and converging objectives, as well as the natural environment, the products of the primary sector, the rich cultural heritage of the Lassithi Plateau, along with the designation of the area as a NATURA 2000 site offers an excellent opportunity for cooperation, so that the productive bodies and the local community understand and support the policy of the protection of biodiversity as a starting point, and not as an obstacle to local development. The main conclusion of the meeting was that Natura 2000 Network ensures the protection and conservation of natural and cultural landscape and also provides significant benefits for the local economy and a wide range of opportunities to enhance employment and development of environmentally friendly business.
In this context Prof. M. Mylonas and I. Stefanakis agreed to proceed with the environmental awareness of the population for the benefits of the NATURA 2000 Network, within the framework of the LIFE Natura2000Value Crete project.