Knossos Run - Following the Trails of Knossos and Youchtas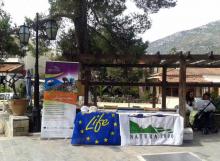 Life Natura2000Value Crete participated in the Marathon race "Knossos run" on the 3rd April of 2016. According to the organisers, over 600 people participated in the event. A promotion stand of the project was placed at the central square of Archanes, being the end of the race.
During the event, printed communication material of the project (mostly posters and leaflets), as well as material from previous projects implemented by the Natural History Museum of Crete, was distributed to the participants, representatives of local authorities, professionals in the tourism sector and school teachers who showed increased interest in our activities.