News Release: Educational seminar for journalists, journalism students and mass media professionals
Event date
Saturday, April 16, 2016 - 10:00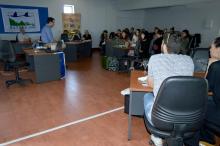 An educational seminar was held on Saturday, 16th of April in the National History Museum of Crete, as a part of the action D1 (Training seminars for the target audiences) of LIFE Natura2000Value Crete. The target groups of the seminars include people who are active in NATURA 2000 sites or deal with environmental issues.
The aim of the seminar was to inform journalists and journalism students, as well as people who work in the sector of media, of issues related to the environment, the different ecosystems, species of flora and fauna, Natura 2000 sites and their value for the economic, social and cultural well-being of the community.
The seminar lasted 4 hours and 27 people participated in it. Scientists from NHMC as well as a journalist from the newspaper KATHIMERINI, Mr Giorgos Lialios, gave oral presentations on themes related to scientific and special environmental issues, aiming at the development of the most comprehensible and efficient ways to communicate them to the general public. After the presentations, a discussion between the attendees followed, many questions were answered and the participants were asked to write an article based on a scientific text.
The participants, upon their arrival, were given communication material of the project, as well as a certificate of attendance in the seminar.
SCHEDULE OF THE SEMINAR
10:00-10:15: Arrival - registration of the participants
10:15-10:45: Presentation topic: «Network of Protected Areas Natura 2000». Dr. Promponas Michalis, Physicist-Environmentalist (UoC-NHMC).
10:45-11.15: Presentation topic: «Major priority species and priority habitats of the Natura 2000 sites in Crete. Ecological elements of species/habitats and their value». Dr. Xirouchakis Stavros, Biologist-Ornithologist (UoC-NHMC).
11:15-11:30: Coffee break.
11:30-12.00: Presentation topic: «Economic benefits of ecosystems, biodiversity and social well-being». Tania Ploumi, Environmentalist MSc (contractor of UoC-NHMC).
12:00-12:30: Presentation topic: «Environmental and scientific popularisation and journalism». Giorgos Lialios, Journalist (Newspaper KATHIMERINI).
12:30-13:00: Coffee break.
13:00-13:30: Conversation – questions.
13:30-14:00: Case study, assessment of the seminar.
A second educational seminar targeted at journalists and professionals working in the sector of media will be held in Chania within the next couple of months.