News Release: Celebration of the Pan-European Day for the NATURA 2000 Network in Axos village, Mylopotamos
Event date
Sunday, May 29, 2016 - 10:00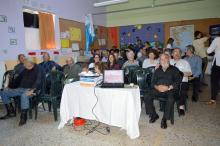 The 21st of May is dedicated to the NATURA 2000 Network by the European Union. ''LIFE Natura2000 Value Crete'' celebrated that day organising an event in Axos village, Mylopotamos, in collaboration with ANIMA (Hellenic wildlife care association) and the Cultural Association of Axos – Livada, on Sunday the 29th of May. The highlight of the event was the release of 5 wild raptors (Gyps fulvus) in the local gorge.
The event was held in the primary school of the village and comprised of an open discussion, accompanied by speeches given by scientists of the Natural History Museum of Crete and a representative of ANIMA. Specifically, the first speech was given by Mr. Michalis Promponas, Dr. Physicist-Environmentalist (UoC-NHMC) and concerned the NATURA 2000 Network of protected areas in Greece and in Crete, as well as the policy framework that characterises them. A presentation by Mr. Stavros Xirouchakis, Dr. Biologist-Ornithologist (UoC-NHMC) followed, regarding the avifauna priority species of Crete, their benefits to humans, as well as the threats they undergo as a result of the human presence. Afterwards, Ms. Tania Ploumi, MSc Environmentalist (UoC-NHMC), designated the services and the benefits of the environment to the local community and the reassurance of its prosperity. Ms. Maria Ganoti, a founding member of ANIMA, coordinated and ended the discussion, informing the attendees about the activities of the association.
There was a project stand too, from which people could get communication material of the project, such as leaflets, t-shirts and hats for adults and children. Some of them showed interest in getting updates of the upcoming activities of the NHMC and of the project. The estimated turnout of the event was 100 people, members of the Cultural Association, residents of the area and visitors-tourists.
At the end of the event, 5 raptors of the carrion-feeding species Gyps fulvus (ornia or skares, as they called in the area) where released in the gorge that characterises the area, close to the entrance of the village. The birds were found injured or poisoned in the area and were sent to ANIMA for their medical treatment and recovery.
On the occasion of the Pan-European Day for the NATURA 2000 Network, as well as the World Environment Day (22nd of May), this open event was an effort to sensitise and achieve environmental awareness of the public.