Participation in the workshop on "Energy Saving, Energy Management and Environment"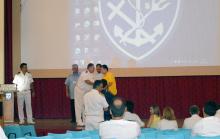 The "Energy Saving, Energy Management and Environment" was the subject of the workshop that was organized by the Energy Management Office of the Naval Base of Crete on Wednesday, July 13, 2016, at the Naval Base of Crete, Souda, Chania, Crete. The "LIFE Natura2000 Value Crete" project participated with an oral presentation, by Dr Michalis Probonas.
The event is part of the awareness raising activities of the project « Military Energy and Carbon Management» (LIFE11 ENV/GR/000938, Acronym: MECM, http://www.life.mil.gr), which is implemented by the Greek Ministry of National Defence (MoD) to 3 Military Camps of the Armed Forces, namely the "Triantafilidis Army Camp (25 Armoured Brigade)" in Xanthi, the Naval Base of Souda and the "110 Combat Wing – Larissa Air Base" in Larissa.
The aim of the beneficiaries of the project (MOD, CRES) is the development and implementation of a pilot Energy Management System (SBS) in these camps, according to the international standard EN ISO 50001: 2011 and the implementation of technical pilot projects – interventions in specific premises of these camps for their energy improvement / performance.
The project produced a Manual - Power Saving Guide, which is available in printed and electronic format and applies both to public energy management plans and to saving guidelines for buildings/houses to consumers in their everyday life. The electronic format is available on the link: http://www.life.mil.gr/images/PDF/LIFE-2011-Military-Energy-and-Carbon-M...
The project LIFE Natura2000 Value Crete participated with a half-hour oral presentation by Dr. Michalis Probonas, who presented the objectives, the main project activities, the networking and synergy issues between LIFE projects, but also the need for dissemination of information gathered during the implementation of these projects, both in local communities and the lay public. Extensive reference was made in the NATURA 2000 Network, the protection status and the importance of proper protection and conservation of the ecosystems in the economic, social and cultural wellbeing of the Cretan society.
After the end of the workshop, coordinators and representatives of both projects discussed the possibility of a wider cooperation in the future, in order to implement a new project that combines the results and the good practices developed during the implementation of LIFE projects.