Meeting in Skyros' island, 24-26 June 2016, in the framework of project "LIFE SKYROS BIODIVERSISTY"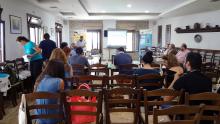 In the framework of the project: "Demonstration of the Biodiversity Action Planning approach, to benefit local biodiversity on an Aegean island, Skyros" (LIFE09 NAT/GR/000323 – LIFE Skyros Biodiversity), a meeting organized in Skyros during the period 24-26 June 2016, under the topic "Action Plan for the biodiversity of Skyros: actions for life".
Coordinating beneficiary of project LIFE09 NAT/GR/000323 is the Municipality of Skyros, and Associated Beneficiaries are the Hellenic Ornithological Society (HOS), the ELLINIKI ETAIRIA – Society for the Environment and Cultural Heritage and the National Center for the Environment & Sustainable Development. The project started in October 2010 and will be completed by late August 2016.
The project aims to demonstrate integrated planning methods and management measures to enhance the biodiversity of Skyros, fulfilling the demand of the local community for an environment rich in biodiversity, compatible with a sustainable economical and social development.
Special objectives of the project are the following:
Demonstration of the feasibility of revitalization of the traditional island land use model.
Restoration of the island's wetlands and the creation of a sufficient wetland network.
Development of a comprehensive Action Plan for the conservation of the important local or/and endemic plant species.
Development of a comprehensive Action Plan for the restoration of adjacent islet biodiversity.
Demonstration of the opportunities for making tourism and biodiversity compatible.
During the meeting in Skyros the "Action Plan for the Biodiversity of Skyros: A new approach for the conservation of biodiversity and the sustainable tourist development" was presented, as well as the thematic Actions Plans on the: A) Agro-Pastoral Management, B) Maple Stands, C) Biodiversity of Wetlands, and D) Sustainable Tourism.  
The project LIFE Natura2000Value Crete participated in the aforementioned meeting in Skyros, while a brief presentation of the project and the up-to-date results took place. In addition, one TV spot presented to audience and also information material distributed to all participants.