News Release: Organising of workshop on the ''NATURA 2000 sites: Opportunity or obstacle for the development?'' in Gavdos island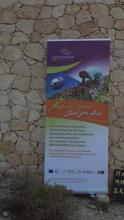 A workshop of the project LIFE Natura2000Value Crete took place in Gavdos island, on Saturday, the 30th of July 2016. Topic covered in the workshop was ''NATURA 2000 sites: Opportunity or obstacle for the development?" with the aim of informing people in the value of the Natura 2000 sites, their designation as sites with great developmental potential, as well as the presentation of ideas and examples for the proper exploitation of the protected land, with respect to the natural environment. It is the fourth of a series of 26 workshops which will be held in all of the Municipalities of Crete in the context of the project's actions.
The workshop was hosted at the theatre "Theophilos Tsirintanis" at Sarakiniko, Gavdos island. It lasted 2 hours and the turnout was about 25 people. Representatives of the Municipality, school teachers, residents and visitors - tourists participated in the event. 
The presentations accompanying the workshop designated the NATURA 2000 sites on a European, national and local level and focused on the protected areas characterising the Municipality hosting the event. The main topic covered was the ecosystem services. More specifically, the following issues were addressed: benefits wildlife offers to people, organic farming and stockbreeding, protection of natural resources such as: soil and water, from various threats, as well as practices of their improvement and ecotourism, as an emerging professional and scientific domain, which combines the purposes of tourism with the protection of biodiversity and the designation of the local products and values. During the workshops and at the conclusion of them, the speakers were at the disposal of the participants to clarify anything and answer to various questions. 
The participants were provided with a folder containing printed communication material of the project (leaflet, sticker, schedule of the workshop), t-shirt and hat. 
The schedule of the workshop was the following:
20.00-20.20: Arrival - registration 
20.20-20.25: Greetings
20.25-20.40: Michalis Promponas, Physicist - Environmental Scientist, PhD (University of Crete – Natural History Museum of Crete): "NATURA 2000 Network of Protected Areas in the European Union, Greece and Crete"
20.40-20.55: Tania Ploumi, Environmentalist MSc (University of Crete – Natural History Museum of Crete): "Socio-economic benefits from the Natural Environment" 
20.55-21.10: Giorgos Vlontakis, Agronomist - Environmentalist MSc - Organic farmer: "NATURA 2000 sites: Protection and improvement of the local natural resources, organic farming and stockbreeding" 
21.10-21.20: Coffee break
21.20-21.35: Roula Trigkou, Forester MSc, Senior Conservation Communication Officer, Hellenic Ornithological Society: "Ecotourism in Natura 2000 sites: opportunities, possibilities and requirements"
21.35-21.50: Stavros Xirouchakis, Biologist - Ornithologist, PhD (University of Crete – Natural History Museum of Crete): "Ecosystem services of Wildlife" 
21.50-22.00: Questions - open discussion
Two more workshops are foreseen at the end of August in Municipalities of Chania and Rethimno.