News Release: LIFE Natura2000 Value Crete celebrates EuroBirdwatch16 at Fragma Potamon, Municipality of Amari
Event date
Sunday, October 2, 2016 - 10:00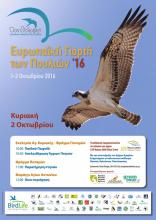 On the occasion of the EuroΒirdwatch16, the University of Crete (UoC) - Natural History Museum of Crete (NHMC) organises an open event in order to inform people of the protection of migratory birds and their habitats, on Sunday, the 2nd of October, 2016 at 10 p.m. at the location "Fragma Potamon", Municipality of Amari. Co-organisers of the event are ANIMA (Hellenic wildlife care association), tour operator "Greentour" and the Cultural Association of Patsos, Voleones and Pantanassa, along with the support of the Municipality of Amari. 
The purpose of this event is to promote the importance of the protection of the nesting and breeding areas of migratory birds, the areas where they feed and rest and their migratory routes. Greece and especially Crete, are crossroads of migration and passage for millions of birds. Given that, Crete is one of the top destinations for birdwatching activities, through which awareness can be raised concerning the protection of avian species resulting in the active participation of the general public, students and teachers in other environmental actions. 
The schedule of the events is the following:
Church of Saint Kiriaki - Fragma Potamon
10:00 Games for children
10:30 Release of wild birds
Fragma Potamon
11:00 Birdwatching
Gorge of Saint Antonios 
12:00 Eco-touring
During the event, wild birds will be released. They were found last year in Crete either poisoned or injured. NHMC sent the animals to ANIMA for their medical treatment and recovery and is going to release them in their natural environment, on Sunday, the 2nd of October, 2016 at 10.30-11.00 p.m. at the location "Fragma Potamon".
The aforementioned action is being implemented by NHMC, within the context of the project LIFE Natura2000Value Crete ("The ecological services, social benefits and economic value of the Ecosystem Services in Natura 2000 sites in Crete" - LIFE13 INF/GR/000188 – funded by Ministry of Environment and Energy). Cooperators of NHMC are the Decentralized Administration of Crete - Directorate of Coordination and Supervision of Forests and the Hellenic Ornithological Society (HOS).
LIFE projects of the European Commission have been responsible for the protection of the environment for about 25 years. They inform, sensitise and shape environmental awareness, respect and protection of nature and natural resources at local, regional and European level.
More information:
Natural History Museum of Crete
Tania Ploumi: 2810 393293