News Release: 3rd Meeting of the Stakeholders Consultative Team & LIFE Natura2000Value Crete Project Steering Committee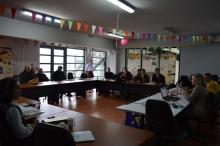 The 3rd Joint Meeting of the Project Steering Committee (PSC) and the Stakeholders Consultative Team took place on Tuesday, the 13th of December 2016, at the Exhibition Premises of the Natural History Museum of Crete.
Representatives of the A' Hunting Association of Crete & Dodecanese and the Federations of Professional Fishermen of Ierapetra & Siteia attended the meeting. Presentations concerning various financial tools and potential for development in the primary sector (agriculture, stockbreeding and fisheries) were given by specialists. A discussion between participants and specialists followed, designating their everyday problems and an effort was made in order to find effective solutions.
The aforementioned action is being implemented by NHMC, within the context of the project "LIFE Natura2000Value Crete" ("The ecological services, social benefits and economic value of the Ecosystem Services in Natura 2000 sites in Crete" - LIFE13 INF/GR/000188 – funded by Ministry of Environment and Energy). Cooperators of NHMC are the Decentralized Administration of Crete - Directorate of Coordination and Supervision of Forests and the Hellenic Ornithological Society (HOS).