News Release: LIFE Natura2000Value Crete participated in the ''Festival of seeds and self-sufficiency'' at Pyrgos-Municipality of Faistos, on the 30th of April 2017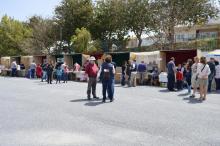 The Social Cooperative Corporation "Melitakes", with the support of the Municipality of Archanes & Asterousia, the Cultural Associations of Doraki, Mournia, Charakas, Paranymfoi, Pretoria, Prinias, Pyrgos, the elementary school and high school of Pyrgos and the parish of Pyrgos, hosted the ''Festival of seeds and self-sufficiency'' at Charakas and Pyrgos, the 29th and 30th of April 2017 respectively. The programme of the festival included presentations, discussion, exchange of seeds, information kiosks, kiosks for the promotion of local products, children's activities and celebration of the event with traditional Cretan music and delicacies.
On Sunday the 30th of April an exchange & distribution of seeds among the attendants took part aiming at: the sharing and promotion of the valuable local agricultural heritage, the preservation of the genetic characteristics of the traditional crops and the acquisition of knowledge regarding the value of seeds and how to reproduce them. Both days were full with presentations given by scientists and people who engage in agricultural activities. The presentations took place at the hall of cultural events of Charakas on Saturday the 29th of April and at the elementary school of Pyrgos on Sunday the 30th of April. Main themes were: agricultural economy and countryside, use of active microorganisms in farming, sustainable planning of farms, effects of pesticides and synthetic fertilisers in public health-reproduction & the environment, land-dwelling predators and their contribution to agroecosystems etc.
The Natural History Museum of Crete (NHMC) participated in the festival on Sunday, the 30th of April 2017 both with information kiosk and presentation. Stavros Xirouchakis, Dr. Biologist-Ornithologist, informed the attendants of the benefits provided by wildlife towards human societies, also noting the contribution of ecotourism and bird-watching tourism. NHMC scientists talked with people attending the festival and distributed leaflets, informative guides and posters of the communication strategy of the project LIFE Natura2000Value Crete, having been implemented by UOC-NHMC since 2014.