News Release: Participation of the project LIFE Natura2000Value Crete in an event organized by the kindergarten of Tavronitis, Municipality of Platanias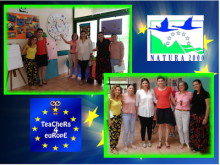 An all-day kindergarten in Tavronitis, Municipality of Platanias, organised an event on Wednesday, 7/6/2017, in the framework of the European project Teachers 4 Europe, dedicated to the Natura 2000 (N2K) Network sites. The event was also held on the occasion of the celebration of the World Environment Day (WED) on the 5th of June.
Ms Maria Manadaki, coordinator of the West Crete Law Observatory, informed the attendants on the legal framework under which N2K Network operates. She briefly presented how EU protects the environment through environmental legislation and policy.
Afterwards, Ms Tania Ploumi, representative of the Natural History Museum of Crete, introduced people to the N2K sites. Various concepts such as the protection of the natural environment, the connection between the environment and the life quality were covered through an informative presentation, games, the use question-answer method, discussion and the recall of experiences.  
Parents were also invited to the event in order to get informed on the teaching methods used in the school and have an active part of the experiential learning procedure.
Towards the end of the event, children were involved in creative activities, while adults were engaged in conversation and exchange of ideas and educational material.