News Release: LIFE Natura2000Value Crete participated in the 1st Pancretan Banana Festival which took place at Arvi, Municipality of Viannos
Event date
Friday, August 11, 2017 - 20:00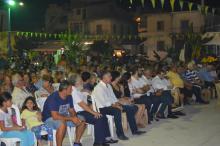 The three-day Banana Festival tool place in Arvi, Municipality of Viannos on 11-13 of August 2017. Co-organisers were the Region of Crete, the Municipality of Viannos, the Association of banana producers of Crete and the Agricultural Association of vegetable producers of Arvi.
It constitutes the first Pancretan Banana Festival with the aim of establishing this event as a constitution in the area where banana trees are cultivated in a great extent. Through the Festival an effort was made to promote a high-quality product, inform people on the cultivation methods and at the same time, participate in cultural events, photo exhibition, guided tour through banana tree crops, musical events, while during the festivities, visitors were treated various banana delicacies.
The project LIFE Natura2000 Value Crete participated in the Festival with an information kiosk and a presentation dedicated to the ecosystem services coming from wildlife on Friday the 11th of August 2017.
The programme of the festival was the following:
Friday 11 August
Beginning of the 1st Pancretan Banana Festival of Arvi
Speech entitled: "Individual and Group Protection in the Application of Pesticides"
Speech entitled: "Biological cultivation of Cretan banana"
Speech entitled: "Ecosystem services provided by wildlife"
Photo exhibition
Saturday 12 August
Theatrical show from the Cultural Association of Venerato
Traditional music feasting
Guided tour through banana tree crops
Sunday 13 August
Traditional music feasting
End of the 1st Pancretan Banana Festival of Arvi