Educational seminars for students of the educational institutions of Crete
Event date
Monday, May 22, 2017

to

Wednesday, May 24, 2017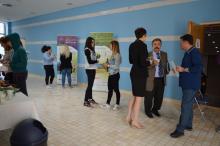 Three training seminars for the students of the educational institutions of Crete took place between 22 and 24, May, 2017.
The seminars were held at the premises of the Technical University of Crete (May 22), University of Crete (Voutes campus, Heraklion, May 23) and Gallos campus, Rethymno (University of Crete, May 24). The aim of the seminars was to inform students about issues related to the environment (ecosystems, fauna and flora, biodiversity, protected areas of the NATURA 2000 network and their importance to the economic, social and cultural wellbeing of the local communities).
The training sessions lasted 4 hours each and involved about 200 people. The program included projection of the documentary entitled "NATURA 2000: Life for All" and presentations by scientists from the Natural History Museum of Crete, the University of Patras, the Hellenic Ornithological Society and the Lawyers involved with environmental issues. 
Each seminar was followed by a discussion. Subsequently, the participants studied a real occurrence of environmental offenses and tried to identify them, as well as to present the steps one should take to report the incident.