Open Event for the NATURA 2000 Network and Release of Wildlife in Gonies Pediados (Sunday, November 19, 2017)
Event date
Sunday, November 19, 2017 -

10:00

to

14:00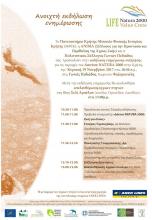 Under the framework of the LIFE Natura2000 Value Crete Program, the University Crete-Natural History Museum of Crete (NHMC) in collaboration with the Cultural Association of Gonies Pediados and the Association for the Protection and Welfare of Wildlife, "ANIMA", organized an Open Event for the Protected Areas included in NATURA 2000 Network.
The event was accompanied by a release of wild birds and took place on Sunday, November 19, 2017. The agenda of the event included the projection of the documentary "NATURA 2000: Life for All", as well as speeches about wildlife and especially the bird life of Crete, in relation to local communities.
It took place from 10.30 am until 12.30pm at the café "Fazomanolis" located at the entrance of the village, while the liberation of the birds followed at Seli Ambelos (entrance to the Plateau of Lasithi) from 13.00pm until 13.30pm.
The wild birds (Gyps fulvus) were found during 2016 and 2017 in Crete being poisoned, injured, or weak and the Museum of Natural History of Crete in collaboration with the volunteers on the island took care of them. ANIMA undertook their rehabilitation and on Sunday they were be brought back in their natural environment.
The Agenda:
10.30-11.00: Registration
11.00-11.30: Presentation of the documentary titled "NATURA 2000: Life for All"
11.30-11.50: Stavros Xirouhakis, Dr. Biologist-Ornithologist "Birds of Crete: threats, problems and management "
11.50-12.10: Panagiotis Georgiakakis, Dr. Of Environmental Biology "Ecosystem services of the wild life "
12.10-12.30: Open discussion
12.30 -13.00 Departure for Selī Ambelou
13.00-13.30: Release of wild birds
The event was implemented by the Natural History Museum of Crete under the framework of "LIFE Natura2000 Value Crete" project ("Ecological services, social benefits and economic value of ecosystem services in Natura 2000 sites in Crete "- LIFE13 INF / GR / 000188). Free transfer of birds from Crete to Athens and return to the island, has been sponsored by ANEK LINES Shipping Company.