Training seminar for professionals involved in tourism at Lasithi plateau
Event date
Saturday, March 24, 2018

to

Sunday, March 25, 2018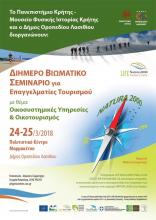 A training seminar for professionals involved in tourism took place at the cultural center of Marmaketo, in Lasithi plateau in the 24th and 25th of March, 2018.
The Seminar was organized by the Natural History Museum of Crete (University of Crete) with the support of the Municipality of Lassithi Plateau. It aimed to improve the capacity of tourism professionals (mountain and tour guides, apartment  owners etc) on simplifying the notion of the contribution of biodiversity and ecosystem services to the human well-being and sharing it with tourists and visitors in NATURA 2000 sites in Crete.
It included a series of speeches on the NATURA2000 network, the natural environment of Crete and the ongoing efforts to protect it by promoting mild, environmental-friendly tourism. Also, emphasis was placed on the archaeological and cultural environment of Dikti mt. area, as well as on efforts to improve the tourist model saving valuable natural resources such as water. The second day of the seminar featured a visit to the Selakano Plateau, accompanied by members of the Lassithi Plateau Mountaineering Club.
The seminar took place in the framework of the project "The ecological services, social benefits and economic value of ecosystem services in Natura 2000 sites in Crete, Greece" [LIFE Natura2000Value Crete - LIFE13INF/GR/000188].
The seminar program and some indicative presentations can be seen below: