Open event: "Natural Environment and Conservation of Chrysi island"
Event date
Thursday, April 26, 2018 - 18:00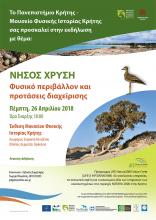 On the 26th of April, 2018, at the onset of the new tourist season, an open event on the "Natural Environment and Conservation of Chrysi island" took place at the Exhibition of Natural History Museum of Crete - University of Crete (Sofokli Venizelou Av., Iraklion).
The whole Chrysi island (also known as Gaidouronisi) has been designated as a NATURA2000 area, since it hosts a wide range of protected habitat types and flora & fauna species. Thanks to its natural beauty, it is a top destination for the inhabitants and visitors of Crete. Unfortunately, its touristic exploitation is out of control, despite the fact than clear management strategy and practices have been suggested by NHMC.
During the meeting the natural history and the ecosystem services of Chrysi island were presented to the audience and the urgent measures needed for the protection of the island (as foreseen in the «Special Environmental Study of the Island of Chrysi») where highlighted.  
Subsequently, the Deputy Mayor of the Environment, Cleaning and Civil Protection of the Municipality of Ierapetra Mrs. Roumeliotaki presented the planned actions of the Municipality and the head of the volunteer group "Chrysi Eco Project" Ms Mireille Geubel, talked about the "Voluntary actions to protect Chrissi".
The program of the event:
17.45-18.00: Registration
18.00-18.30: View of the LIFE Natura2000Value Crete documentary «Natura 2000: Life for all» 
18.30-19.00: "NATURA2000 network and the Natural Environment of Chrysi island"- Panagiotis Georgiakakis, NHMC
19.00-19.30: "Special Environmental Study of the Island of Chrysi: What has to be done this summer period" – Michalis Dretakis, ΜΦΙΚ
19.30-20.00: " The management and protection measures for  the island of Chryssi for 2018" - Maria Roumeliotaki, Deputy Mayor of the Environment, Cleaning and Civil Protection of the Municipality of Ierapetra
20.00-20.30: " Voluntary actions to protect Chrissi " - Mireille Geubel, Chrysi Eco Project
20.30-21.00: Discussion