Participation in Rural August Festival (Chania 24-30/8/2018)
Event date
Friday, August 24, 2018 - 09:15

to

Thursday, August 30, 2018 - 21:15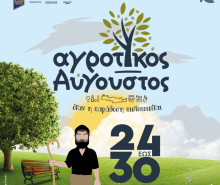 The project LIFE NATURA2000ValueCrete participated in the Rural August Exhibition that took place during the last week of August 2018.
The 3 information guides of the ecosystem services of coastal, mountainous and agricultural Natura 2000 areas containing maps and photos from all the 54 NATURA2000 Protected Areas of Crete were distributed among participants and the project was presented under a kiosk based at the centre of 1866 square of Chania.
This year's exhibition hosted all in total 40 kiosks at the central city's square.
Small local enterprises was represented in each kiosk demonstrating their traditional products and giving both residents and visitors the opportunity to taste traditional flavors and learn about the manufacturing processes of traditional recipes for a whole week.
During these six days, thousands of people who passed through the square had the opportunity to get familiar with certified Cretan products, to know about NATURA 2000 protected areas and their socio- economic benefits, and also enjoy traditional music and dancing events that took place during evenings.
The participation in August 2018 Exhibition of rural products was a good opportunity for the team of LIFE NATURA2000 Value Crete Project to explain how cultural and natural heritage are interrelated and how quality local products especially those related to the agro-food sector are also related to the good conservation status of our natural environment.