Workshops on «Managing NATURA2000 sites: New Challenges, Good Practices and Public Consultation».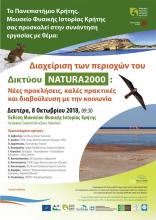 University of Crete – Natural History Museum of Crete (NHMC) in the context of program LIFE + Information and Communication, entitled «Ecological Services, social benefits and economic value of ecosystem services in the areas of NATURA 2000 Network in Crete» (Acronym: ''LIFE NATURA2000 Value Crete'' – LIFE13 INF/GR/ 00018), organized two (2) Workshops on the «Management of NATURA2000 Networks: New Challenges, Good Practices and public consultation».
The meetings were addressed to stakeholders directly involved in the management of NATURA2000 sites (municipalities, forestry services, tourism professionals, farmers, fishermen, environmental NGOs, etc.) and were open to the public.
The final 2 workshops were organized one in Chania and one in Heraklion as follows:
Monday, October 8, 2018, in Heraklion at the Exhibition centre of the Natural History Museum of Crete (Sophocles Venizelos Avenue, Dermatas Bay)
Friday, October 12, 2018, in Chania, Chamber of Chania (Sophocles Venizelos Square 1).
Invited speakers were representatives of the Management Bodies of NATURA 2000 Protected Areas, the Ministry of Environment and Energy and the local and regional public organizations (Directorate of Forestry, Region of Crete – Department of Environment), etc.
During both events, participating speakers presented
Good Practices in the sustainable Management of Protected Areas  
Effective methods of consultation with the local community and the social partners
Financial tools for research, management and economic transition to PA
Interesting references and recomendations drawn from these two workshops will be published soon.