Participation in the "2nd City Conference on Volunteering and Social Empowerment", Kolympari 4-6/5/2018
Event date
Friday, May 4, 2018 - 09:30

to

Sunday, May 6, 2018 - 20:45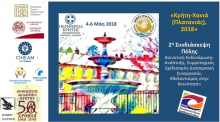 The Natural History Museum of Crete - University of Crete, participated in the "2nd City Conference on Volunteering and Social Empowerment", which took place the weekend 4-6 May 2018, in the Conference Center of the Orthodox Academy of Crete, in Kolymbari, Chania.  
Partners of the 2nd Conference were the Region of Crete – Regional Unity of Chania, Municipality of Platanias, the Scientific Network for Adult Education in Crete, in collaboration with the Mediterranean Agronomic Institute of Chania, the Department of Philosophy and Social Studies of the University of Crete, the Technological University of Crete, Chania's Medical Association, the Cultural Pancretan Association and the Social Welfare Center of the Region of Crete. 
Aim of the conference was to show the economic, social and environmental importance of Adult Education, the importance of Culture, Volunteering and Cross-sectoral Cooperation inside the Community.
With this action, citizens who participated in the Adults Educational Program completed a six-month Initiative (Intervention Plan-A Action Cycle) on the promotion of cultural heritage monuments and particular "Fountain's" of Platanias Municipality. This is the implementation of a 6-month Plan of Participatory Dialogue – a model of Democratic Dialogue (and alternative form of consultation), where the citizens of the Municipality of Platanias and its four Municipalities (Platanias, Kolimvarios, Voukolies, Mousouron), worked together on a number of issues, such as:
Cultural Tourism,
Social development and Cohesion,
Solidarity and
Social Involvement. 
During the conference, Mrs Georgia Pilogotsi presented NATURA 2000 Value Crete project and made a special reference to the Ecosystem Services and the protected areas of the NATURA 2000 Network in Crete, pointing out that their protection and conservation can shape an alternative strategy for sustainable development.
Apart from the partners, the animators and the adult trainees, present was also the Mayor of Platanias Municipality Mr. G. Malandrakis as well as many representatives of local stakeholders (Cultural Associations, Tourism Entrepreneurs, the Wine Network of Chania, Environmental Education Centers) and many artists and scientists (Environmentalists, Biologists, Architecture Engineers, Psychotherapists, etc.) while the Program included many folklore happenings. 
At the end of the 1st day the participants were delivered brochures, posters and the 3 informational guides of the NATURA 2000 Value Crete Project that include maps and information for the services provided by the coastal, mountainous and rural ecosystems of the island.  
The 2nd day of the conference included a walking route that has been created and designed by the trainees, titled: "Our Path in the municipal unity of Moussouron", for all the participants. 
At the end of Day 3, co-organizers proposed the continuation and enrichment of the action with regular meetings between members in order to build on its results, mainly in terms of empowering and mobilizing the local population.