Participation at the 4th Pancretan Beekeeping Congress, February 24-26, 2018
Event date
Saturday, February 24, 2018 - 09:30

to

Monday, February 26, 2018 - 15:00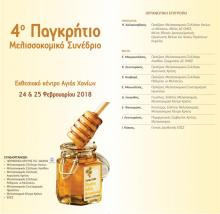 The Natural History Museum of Crete participated at the 4th Pancretan Beekeeping Congress, which took place in the Exhibition Center of Agia, in Chania, the weekend 24-25 of February 2018.
Pancretan Beekeeping Congress is considered to be one of the most important exhibitions for the sector. 
This event hosted more than 1800 registered participants, and a significant number of guests and distinguished lecturers.
The Organizing Committee, consisted of "Melissa Beekeeping Association of Chania, member of the National Organization of Honey & Other Honey Products, and co-organizers were the Region of Crete (Regional Unity of Chania), the Beekeeping Associations of Chania, Lasithi, Rethymno, Eastern Crete, as well as the Heraklion Beekeeping Association and the Beekeeping Center of Crete.