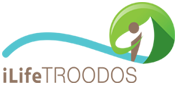 Troodos National Forest Park is an important forest ecosystem, providing services that benefit the human livelihood.
For this reason, a project called "Troodos National Forest Park: Promoting natural values and Ecosystem Services" is currently being implemented in order to increase public awareness on the natural values of Troodos National Forest Park and the Ecosystem Services it provides.
The specific objectives of the project are to:
Promote public awareness of the targeted audience, towards the need for the protection of Natura 2000 network.
Increase awareness on natural values for which the Troodos National Forest Park was included in the Natura 2000 Network.
Change negative attitudes of Cyprus inhabitants, regarding Natura 2000 network and ecosystem services, using various means (rural workshops, awareness/media campaign, and dissemination material).
Spread knowledge about the natural values and ecosystem services provided by Natura 2000 network to professional target groups (policy implementers).
Create and provide toolsets (Mobile Apps, guide, documentary, etc.) regarding the Natura 2000 network, the conservation of natural values and the provision of ecosystem services in order to be forwarded to the public and be used more widely in a national and international context.
Project partners: